(By Justin Goldman and Ava Patricia C. Avila Posted on 12/02/2013 10:00 AM | Updated 12/02/2013 10:01 AM)

FROM THE AMERICAN PEOPLE. U.S. Marine Capt. Joseph White (L) and Philippine army Pfc. Vic D. Victorlano (R)
carry USAID relief supplies from an MV-22 Osprey in Basey, Samar, Philippines, Nov. 18, 2013. Photo by the
US Department of Defense/US Marine Corps Capt. Caleb Eames
The immediate aftermath of Super Typhoon Haiyan (Yolanda) has resulted in a flurry of activity to provide relief of the suffering of longtime US ally, the Philippines. This occurs at a complicated time in a region filled with tension emanating from territorial disputes, many of which are centered on contested claims with China, including Beijing's recent announcement of their Air Defense Identification Zone in the East China Sea. However, China remains an important economic partner for countries with whom it has disputes, including the Philippines. This tension has led several regional countries to call for an increased US military presence, but the sustainability of that US presence has been questioned. The extensive deployment of US forces for humanitarian assistance and disaster relief operations in support of a vulnerable ally that lies within the aptly named "ring for fire" sends an important signal that the US remains able to respond to contingencies.
Rapid Response

As typhoon Haiyan sped through the Philippines, US Marines deployed the next day providing important relief capabilities. The initial contingent of US forces provided essential assessment as the intensity of the typhoon severed key lines of communication. P-3 Orion maritime patrol aircraft flew from Japan and began operating out of Clark International Airport in Luzon on November 11. Airborne crews relayed the most current information so efforts could be launched to respond to those who were stranded without food, clean water, and in need of medical care. US forces work closely with USAID's Office of Foreign Disaster Assistance coordinating efforts and working with the Philippine government to address those most in need. While confronted with one of the largest disasters the country has ever faced, the Philippine government has provided quick clearance for US aircraft, ships, and personnel, enabling the rapid delivery of assistance to affected areas.

By November 13, Marine Corps C-130 aircraft were operating out of the airport in Tacloban, which was at the center of the typhoon, supporting two Philippine Air Force C-130s that had arrived the day prior carrying out around-the-clock relief operations. While access to the airfield was a challenge in the initial days, soon aid was flowing in and displaced civilians were being evacuated out. The US Pacific Fleet ordered the activation of the hospital ship USNS Mercy on November 13, which has experience working closely with Philippine authorities based on past deployments. A week later, the amphibious ships USS Germantown and USS Ashland reached the vicinity of Tacloban to take the lead for relief operations from the aircraft carrier. They arrived with approximately 900 Marines from the 31st Marine Expeditionary Unit from Okinawa that brings with it heavy engineering equipment – dump trucks, bulldozers, and forklifts – to clear debris currently inhibiting response efforts. The amphibious ships employ multiple landing craft that can transport assets ashore including water tanks to address the ongoing demand for potable water.

The rapid response from forward deployed forces that has been demonstrated in Operation Damayan validates guidance in the 2010 Naval Operations Concept, which states that "globally-distributed and regionally-concentrated naval forces are ideally suited for humanitarian assistance and disaster response." US forces have learned tremendous lessons from responding to disasters in recent years, including Operation Unified Assistance after the Boxing Day Tsunami of 2004 where expeditionary forces often characterized by offensive military roles provided tremendous "soft power." During a time of reduced defense spending and concerns about the sustainability of the US regional presence, the message from the actions of US forces during a time of crisis is received much clearer than any statements made from Washington.

Message Sending Presence

Just as the USS Abraham Lincoln responded during Operation Unified Assistance, the deployment of the USS George Washington Carrier Strike Group conveyed the critical political will to come to the aid of an ally. In the weeks prior to Typhoon Haiyan, US Navy officials were explaining the effects of reductions in defense spending and how this would force the cancellation of critical deployments and reduce readiness. President Obama had utilized his address to the United Nations during the General Assembly in late September to explain the US approach to issues in the Middle East from the ongoing civil war in Syria to the challenge of Iran's nuclear program. These realities combined with the cancellation of a trip to the region to visit Manila and attend two key regional summits, heightened the sense of concern over US staying power in the Asia-Pacific.

However, when the hour of need arrived, the Carrier Strike Group brought critical assets to bear such as its 21 helicopters that provide essential lift to transport emergency supplies. The image of a US aircraft carrier, particularly the USS George Washington as a mainstay in the region with its home port in Japan, conveys a persistent US presence. The large-scale response from the US comes shortly after Defense Secretary Voltaire Gazmin announced that talks for an increased rotational presence of US forces and greater access to Philippine facilities had reached an "impasse" after their fourth round concluded in October. Just as the humanitarian response in Indonesia enhanced the standing of the US following relief operations in 2004, the next round of talks will be one measure to gauge the impact of US relief operations on policymakers in Manila.

Regional Dynamics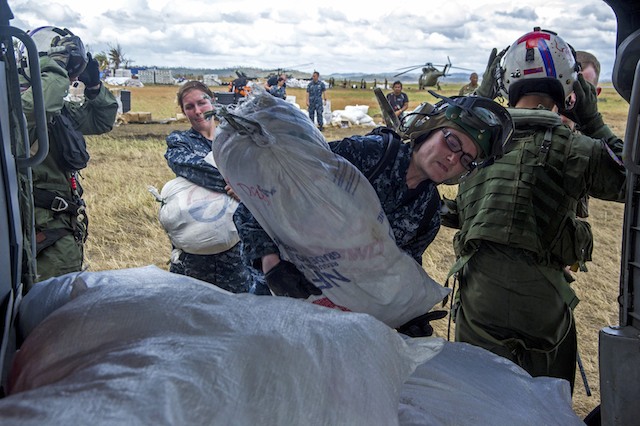 AID DELIVERY. U.S. Navy Petty Officer 3rd Class Deanna Coutts (C) loads a bag of supplies onto an MH-60S Seahawk helicopter to be
airlifted to nearby villages in support of Operation Damayan in Tacloban, Philippines, Nov. 20, 2013. U.S. Navy photo by Petty Officer 2nd
Class Trevor WelshAID DELIVERY. U.S. Navy Petty Officer 3rd Class Deanna Coutts (C) loads a bag of supplies onto an MH-60S Seahawk
helicopter to be airlifted to nearby villages in support of Operation Damayan in Tacloban, Philippines, Nov. 20, 2013. U.S. Navy photo
by Petty Officer 2nd Class Trevor Welsh
During a June 2013 visit of Japanese Defense Minister Itsunori Onodera to Manila, Secretary Gazmin explained the Philippines willingness to offer expanded access to its facilities for Japan, similar to what it is pursuing with the US. In September, the Philippine Navy sent the first contingent to train in Australia under the Status of Visiting Forces Agreement that was ratified by the Philippine Senate in 2012. The long-term US objective to network its Asian allies was also demonstrated in Operation Damayan. The strong reactions from Australia and Japan to Typhoon Haiyan are evidence of a growing trend.

The response to the 2004 tsunami showed the utility of integrating a diverse coalition during Operation Unified Assistance, which relied significantly on Australia and Japan. Three days after the tsunami struck an Australian C-130 landed at Banda Aceh airfield with medical and relief supplies, with a field hospital following shortly, and an amphibious ship arriving in early January 2005 with engineering assets and personnel. Japan responded to an Indonesian request for assistance by deploying C-130s and three naval vessels. Japanese vehicles that came ashore were of particular value as local authorities cited their clearing of roads as essential to reestablishing the road link between Banda Aceh and southwestern districts that sustained heavy damage. Following the 2011 triple disaster in Fukushima, Australian C-17 transport aircraft were on station within days providing critical heavy lift in support of the Government of Japan, reinforcing the pattern of cooperation on disaster relief.

Just days after the typhoon struck, Australia deployed a C-130 and a C-17 to transport a medical team with 25 tons of emergency and medical supplies that established a field hospital at Tacloban Airport, filling an urgent requirement as the city's main hospital was without power or water. The deployment of the HMAS Tobruk, a roll-on/roll-off heavy lift transport vessel, followed from Townsville, Australia en route to the Philippines. As HMAS Tobruk got underway, a Japan Self-Defense Force (SDF) C-130 transport aircraft landed in Roxas City delivering critical food supplies to Capiz province. Its deployment of 1,180 SDF personnel along with key naval platforms including the JDS Ise destroyer and the amphibious ship JDS Osumi marks Japan's largest international disaster relief mission to date.

After ample criticism for its very meager aid and slow response, Beijing confirmed the deployment of its 14,000-ton hospital ship "Peace Ark" to support relief operations. Its lackluster response will do little to reassure neighboring countries worried about a more assertive China in regional and global affairs. While some Southeast Asian countries provided limited assistance to the Philippines, the rapid and extensive responses from the US and its allies serves to highlight the shortcomings in ASEAN by calling into question the capacity of the regional bloc, despite the heavy emphasis placed on disaster relief and humanitarian assistance over the past decade.

While initial intent is rightly focused on meeting the needs of those suffering from the effects of Typhoon Haiyan, the broader implications are clear. The scale of the response effort by the US and its allies directly counters the narrative of a budget-constrained US unable to uphold its commitments in the Asia-Pacific. As the Philippines remains vulnerable to natural disasters, it is important to conclude the talks for an expanded regional presence, as this effort will enhance the Armed Forces of the Philippines ability to deal with territorial threats and respond to natural disasters. Enhanced interoperability will allow the US to provide a more effective response during future disaster relief operations. The strong support from Australia and Japan bodes well as both countries have reaffirmed their engagement with the Philippines and responded in a time of duress. With the challenge of security in regional waters showing no signs of abating, this level of cooperation is encouraging for Manila and Washington looking ahead.

Justin Goldman is an Associate Research Fellow at the S. Rajaratnam School of International Studies (RSIS), Nanyang Technological University and Ava Patricia C. Avila is a PhD Student at Cranfield University.